Global vacancy | Remote working | Apply from anywhere in the world
Senior Technical Project Manager
Empower your career with VeriPark!
At VeriPark, you have the opportunity to work for an international fast-growing company on the leading edge of technology development. We offer a dynamic work environment with remote working options, tremendous learning opportunities, and a company culture that celebrates diversity and puts people at the heart of what we do.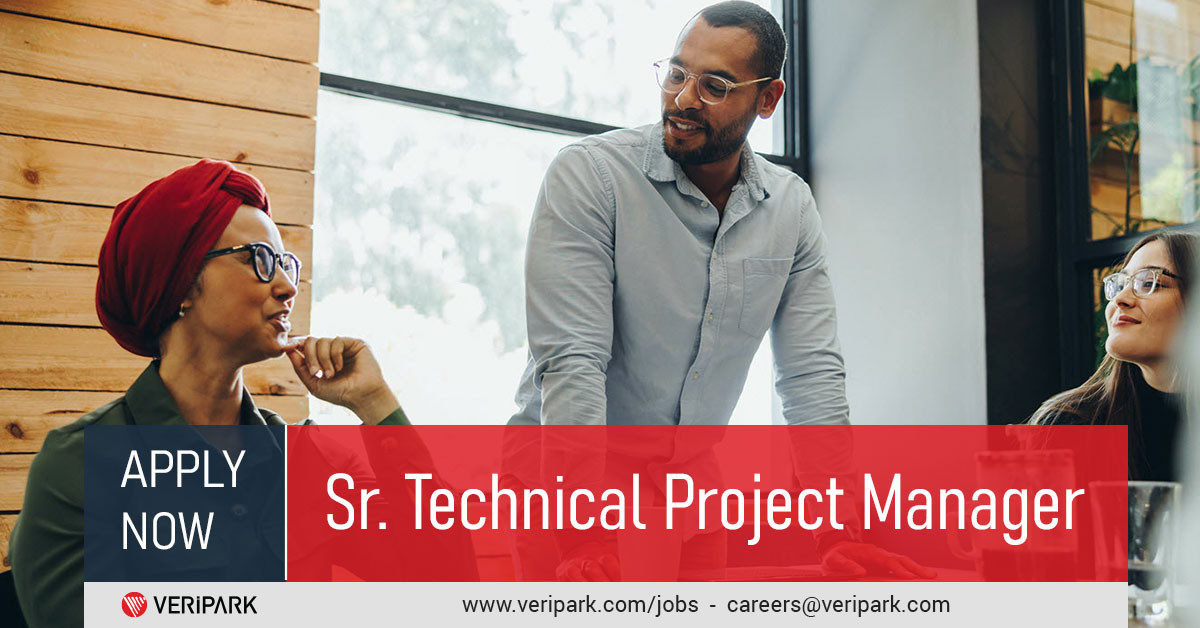 About the job
We are looking for a Senior Technical Project Manager, experienced in implementing CRM and Loan Origination projects in financial institutions. Ideal candidates must have more than 10 years of experience in managing multiple projects along with developing software for vendors serving banks.
What you will be doing:
Project planning, communication, and execution: Develop WBS with costing information. Make sure the project is completed on time and on budget with high-quality deliverables. Execute the project delivery based on the plan. Communicate the right information at the right time during the lifecycle of the project.
Documentation: Guide and review requirements documents, functional specs with wire frame diagrams, process charts, and technical design documents. Also, prepare and review proposals for projects and change requests.
Requirements gathering, analysis and management: Organize meetings with stakeholders to capture requirements and turn them into an SRS document. Capture, guide, and review the detailed scope of change requests. Scope management.
Risks and Dependency Management: Identify and manage the risks, assumptions, issues, and dependencies of the project and communicate through project status reports and project boards. 
Review processes: Actively review the project team's project artifacts and documents. 
Pre-sales / Proposals: Present similar projects and related products to the prospects on visits. Participate in Proof-Of-Concepts engagements held on client premises. Develop proposal scope, initial high-level implementation plan, licensing requirements, and fill RFP matrixes related to area of knowledge. 
Training: Prepare training materials, conduct trainings. 
Communications and Presentations: Conduct project presentations, daily huddles, project board, and steering committee meetings.
Team Management: Manage a team of developers, technical leads and system analysts for both successful delivery and grooming them in their careers
What we're looking for:
10+ years of relevant working experience
Preferably a development / Technical Lead background, ability to look into guidance reviews, comment on technical designs, architecture, etc.
Complete mastery of Agile Scrum and Waterfall and other SDLC Methodologies
Complete mastery of Microsoft Project, Project Planning and Execution
Complete understanding of Test Management Practices, Test Planning, Test Monitoring, Control and Governance. 
Exceptional presentation skills, ability to present information on PowerPoint, narrate and explain to senior stakeholders.
Great interpersonal skills, communication, presentation, negotiation, persuasion, escalation management, and conflict management with strong organizing ability. Ability to build & develop relationships, to inform and persuade others. 
Willingness to travel to international destinations if needed (we strongly advocate remote delivery).
Experience in team management and grooming resources
Experience with Microsoft technologies is preferred (Experience with CRM is an added advantage) 
A strong understanding of processes, preferably PMP, CSM, and CMMI qualified
Experience in managing large scale enterprise projects in the finance industry is a plus
What we offer:
The opportunity to work on new and exciting projects with experienced product teams, using the latest technologies and past implementation experience
The chance to make our Retail/Corporate Banking CRM Solutions more sophisticated by implementing the latest trends as per the current practice
A highly competitive compensation & benefits package
A performance-linked bonus
Remote working options
Tremendous learning opportunities
A thriving and energetic culture that celebrates diversity and puts people at the heart of what we do
Can't find a job matching your profile?