Corporate Loan Origination

End-to-end corporate loan origination process on a single platform
Financial institutions face challenges during corporate loan origination processes that revolve around complex business rules, lack of consolidated financial data and calculated risk ratings. VeriLoan, providing an end-to-end corporate loan origination process on a single platform, enables financial institutions to:
Be future ready,
Capture data across multiple entities,
Optimize work flows,
Cover all related information including shareholders, subsidiaries, parent companies,
Increase the analysis scope,
Ease customer onboarding processes.
VeriLoan Corporate Loan Origination covers portfolio management, risk assessment, compliance with regulatory norms, and transparent lending process to address the competitive business environment and changing regulatory requirements.
The solution covers Construction Loans, Commercial Real Estate, Asset Financing and Small Business Loans.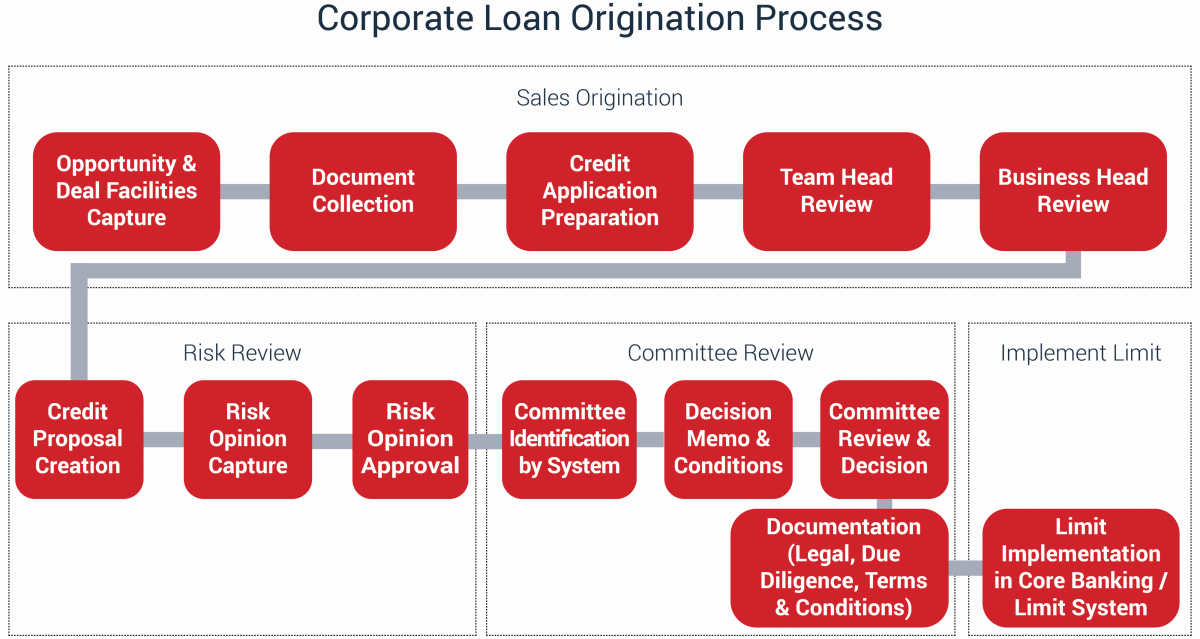 Corporate Loan Origination - Key Features
Credit Limit Request

Initial Funded/Non Funded Limits
Limit Increase/Decrease
Limit Sub-allocation
Disbursement for Limit Utilization


Credit Application

Funded & Non Funded Facilities
Collaterals & Appraisal Details
Covenants & Deferrals
Client's Documents

External System Integrations

Moody's Risk Integration
Dun & Bradstreet
Credit Bureau
AML/Internal/Domestic Blacklists

Integrated Rule Engine

Policy Check & Exceptions
Business Rules & Validations
Risk Committee Approval Matrix 

Risk Analysis

SWOT Analysis
Risk Opinion & Approval
Credit Proposal Template
PDF Proposal Generation 

Risk Committee

Risk Opinion & Proposal Review
Exceptions Approval & Waivers
Decision Memo Capture & Review
Credit Approval

Documentation

Contract, T&C Generation
Document Collection
Scanning & Upload
Integrated Document Management

Implementation

Integration with Core Banking 
Integration with Limit Management System
Limit Implementation & Renewal
Loan Origination & Disbursal
SME Digital Lending & Commercial Loans
An effective commercial loan origination system can deliver massive benefits. When banks achieve straight-through processing in their loan origination process they will see significant improvements in client experience, speed of decision making and, ultimately, profitability. VeriPark's Digital Lending & Commercial Loan Origination Solutions enable financial institutions to attract, onboard and retain SME customers while increasing operational efficiency. The clients can easily use the online digital lending portal to apply for a loan where VeriLoan's instant decisioning capability allows the bank to provide the decisioning outcome as quickly as possible.