Innovation Credit Union | Reinventing the member journey to become Canada's leading Credit Union
FSI Game Changers
Credit unions have always prioritized a personalized and more flexible customer experience to distinguish themselves from traditional banks. At Innovation Credit Union, reinventing the member journey while redefining internal processes is a key objective to their digital transformation strategy. 
Customers rate personalization as "highly important" in today's financial services landscape. In part 2 of this interview, Dean Gagne, Chief Disruption Officer at Innovation Credit Union tells us about the recent changes in the financial services industry and why consumer preference for much greater personalization is rising.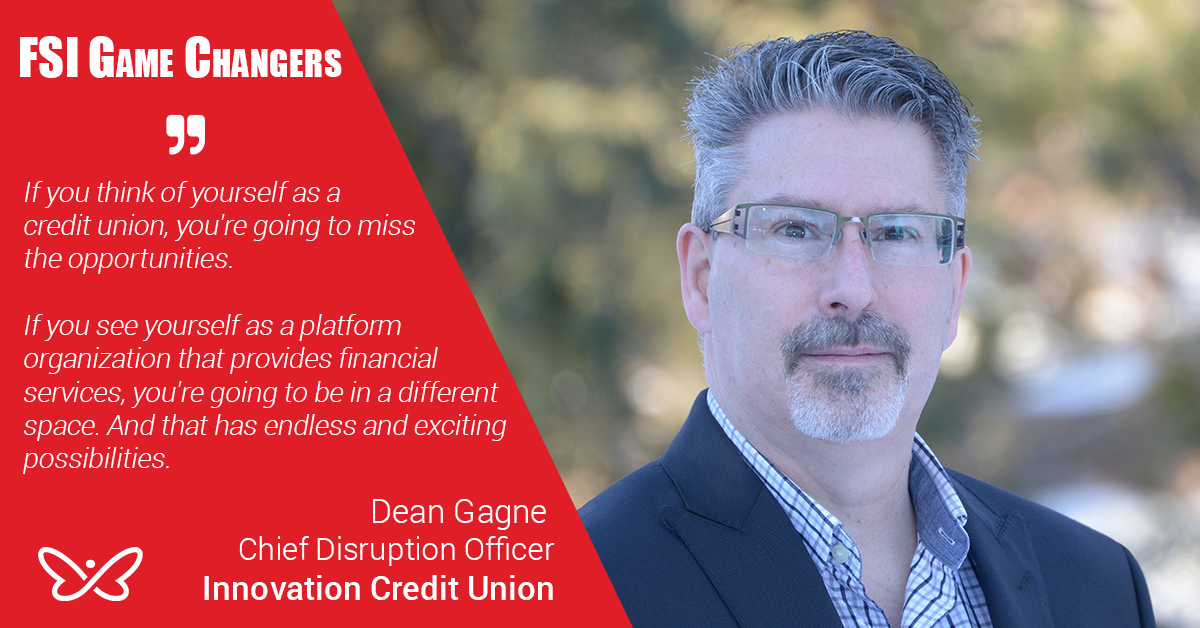 Q: How do members' behavior and expectations change over time? What do people expect from their financial institutions, and how do you respond to this? 
We live in an instant society where people expect to do things themselves quickly and they expect to do them now. That's a key component of change in consumer behavior.
Customers don't want to go in and learn that it's going to take five days to process the loan. They want to be able to process a loan instantly. They want to have documents signed online. But if it doesn't work, they want customer support instantly. 
Nowadays customers want to be able to talk to whoever they want to talk to in the company in 30 seconds or a minute. They don't want to wait in a contact center line for 20 minutes or an hour. The institutions have to adapt to that environment.
During the pandemic, someone had to wait for the major financial institutions for more than 12 hours to talk to somebody about a critical issue. We live in an instant society and that's why we are building platforms and systems that support an instant society.
Q: How do you think credit unions can improve member experiences in the long term and what is the role of CRM in breaking up data siloes to create a better customer journey?
The role of CRM and the tools around the CRM is providing a consolidated single view of what the customers, in our case, members, are doing. But in my mind, it boils down to a couple of factors:
1.  We have to move away from the concept of mass-market segmentation. 
What I want is different than what you want, which is different than what your friends want. We need to have that technology set up in such a way that we know you and your behaviors better than you know yourself. 
2.  Every time we have a discussion with you, it has to be about the things that you're interested in and what would be best for you. 
It doesn't matter whether you log into either online or mobile banking, or call into a contact center, or visit an advice center. The analytics or next best action that comes out of the CRM is the component that makes us understand the wants and needs of the individual. Then we start to have targeted offerings specifically to you.
Q: From your perspective, how are financial institutions, particularly credit unions, doing overall with finding the right balance between digital and human customer service?
I think the majority are challenged. One of the huge differences between Innovation Credit Union and some of our counterparts is they're still investing heavily in bricks-and-mortar. We don't see investmenting in bricks-and-mortar. Because everything that we've discussed thus far has all been around the changing consumer behavior.
So why would you invest $5 or $10 million to build a branch which is bricks-and-mortar? Then you still got to build everything around it to deliver service to a member. Why wouldn't you take that $10 million and invest it in a digital interaction? That's going to help them in terms of better serving a changing consumer.
The struggle is there's a tendency to want to make the business still be brick and mortar, what I call  the "brick-and-click" mindset. They invest less in the technology side and invest more in physical assets. The challenge that everybody has got to overcome is you got to think "first-click", then think "brick". 
Instead of "how does click support brick", you have to think "how does brick support click" and that's the biggest challenge. It's a mindset and a leadership challenge at the financial institutions. There has to be a fundamental change in thinking throughout the institution to make the transition. 
Q: How do you see the future of branch in the financial services industry?
We see the branch of the future is the mobile phone. Plain and simple. If it can't be done on a phone, then you shouldn't be in business.
Q: From a financial service perspective, regulations in many countries allow processes such as customer onboarding to be completed fully digitally now. Do you think we'll see more push by banks to persuade regulators globally to deliver end-to-end digital experiences?
Yes, I think there's going to be more and more push for end-to-end digital experiences and it's going to come from not just the institutions themselves, but it's going to come from other industries.
Consumers are rapidly changing and putting more demands, even on governments in terms of how they interact with the government: How do you get a passport? How do you get your ID? The whole concept of digital IDs is going to be something that's pushed. 
The regulators are also pushing for more open platforms, so the whole concept of open banking is just around the corner and in some places like Europe and the UK, it's even further than that. That's going to fundamentally change things, particularly when you empower the customer to own their own information and to be able to move their banking information from one institution to another or even other platforms. 
The other thing that's going to push the whole change is the fintech world. There's constant change occurring. Larger institutions now are being driven by smaller institutions in the innovations that they're making, so it's going to be a fundamental change in thinking.
There's going to be a fundamental change in how people define their businesses. In his paper 'Marketing Myopia', published in 1975, Theodore Levitt wrote about examples of companies that became obsolete because they misunderstood what business they were in. How do you define yourself? Do you find yourself as a train company or a railroad company? Or do you define yourself as a transportation company?
Q: What exciting possibilities do you see for the banking industry in the future?
I think the way financial institutions will view themselves in the future is going to fundamentally change, and it's going to be for two issues: platformisation of institutions and gateway platforms, feeder platforms that you utilize.
A new trend growing in the financial world is platformisation and gateways. For example, some universities and colleges partnering with banks or credit unions to provide a platform for their students, faculty, and administrators and alumni around everything about the university. When you join, you get the football or the baseball scores, or you get information about alumni events. Once you're an alumni, you keep all things about your alma mater up to date. If you want to buy merchandise, for example, you can do that. But they are a credit union, and you can become a credit union member, although they didn't build it on the credit union but on the university community platform. Now, what draws people there every day is not the fact that they have to do banking. What draws them to it every day is their huge affinity to the university.
"Marketing myopia" change in the thinking of financial institutions
If you think of yourself as a credit union, you're going to miss the opportunities. If you think of yourself as a platform organization that provides financial services, you're going to be in a totally different space. And that has endless and exciting possibilities because you can define a platform in many different ways.
But it's also very exciting on the reverse side because organizations like Apple and Wal-Mart are moving into our space. Look at all the other institutions, how long is it before Amazon starts providing financial services? It's exciting and challenging at the same time.
This is part two of a two-part interview with Dean Gagne, Chief Disruption Officer, Innovation Credit Union. Read the first part of the interview here.
The branch of the future is the mobile phone. Plain and simple. If it can't be done on a phone, then you shouldn't be in business.
Chief Disruption Officer, Innovation Credit Union
More about Innovation Credit Union