Customer onboarding plays a key role in determining the relationship with your prospects and existing customers and it is a critical part of the customer journey. It sets the tone for the entire relationship going forward. Every customer's onboarding journey is different but there is one demand in common: fast and flexible interactions with the banks.
Yet, onboarding in traditional ways can lead to frustrating experiences with multiple friction points such as being re-routed to different channels, needing to provide physical identification or having to answer the same question several times.
VeriPark's Digital Customer Onboarding Solution orchestrates a frictionless and engaging end-to-end onboarding journey. It provides a single platform for banks to onboard customers easily and securely using mobile banking or online banking channels. 
Take a look at our Digital SME and Corporate Client Onboarding page  
5 Steps to a Seamless Digital Onboarding Process
Step 1: Application and Data Capturing
Whether the customer chooses to start the account opening process via internet or mobile banking, VeriPark's Digital Customer Onboarding Solution provides a simple user interface to easily upload all required documents.  Its data capturing capabilities enable banks to never ask for the same data twice and avoid abandoned pages. Customers can easily take a picture of their ID and other documents using a mobile phone or a computer webcam.  
Step 2: Identity Verification
Following data capturing, our Digital Customer Onboarding solution allows banks to do smooth e-KYC checks by analyzing, verifying and authenticating the documents to determine their legitimacy. After data validation, the solution enables banks to ensure a real person is trying to onboard themselves through the mobile device or laptop. Using Microsoft Cognitive Services, the biometric facial recognition and liveness detection help banks to determine if the person is who they say they are. The comprehensive identity verification capability includes:
Selfie-based digital onboarding
Our Digital Customer Onboarding solution leverages facial recognition capabilities and empowers banks in advanced markets to offer selfie-based onboarding to their customers. By combining document capturing and facial recognition technologies for e-KYC, the solution helps to remotely scan an end user's ID. It then matches that with the face on the selfie all through a mobile phone.
Video call-based onboarding
For semi-advanced markets, video call-based onboarding stands out as a quick, convenient and secure method of online customer verification. The customer details are verified directly via video call with a real-human agent, saving the customer the time and effort involved in visiting a branch.
Step 3: Decisioning and account approval
Knowing whether a new account is approved can be nerve-wracking for any customer. VeriPark's comprehensive Digital Customer Onboarding Solution improves the first minutes and hours of the customers' online and mobile experience. In this step, the prescreening options and quick decisioning capabilities of the solution enable banks to ease that worry. By shortening the time in the account approval processes, customers can complete the customer onboarding process faster.
Step 4: Disclosures and Consent
The more the banks offer digital and mobile services, the greater the need to go paperless in the customer onboarding process. The DocuSign integration enables banks to get the customers' consent with e-signature. Removing wet signatures reduces the onboarding process from days or weeks to minutes.
Step 5: Account Funding
By providing a multi-product onboarding capability, our Digital Customer Onboarding solution allows bank to address different types of funding like deposits to new accounts or loan disbursements. 

Key Features
Performing OCR on ID/Passport Details

Face Recognition, Biometrics ID Verification for e-KYC

E-signature Integration with DocuSign

Omni-channel Customer Journey

Channel Migration Capability Between In-branch and Mobile

Feeding Customer Data into the Bank's CRM System

 
Key Benefits
For Financial Institutions

Anywhere, anytime and any device customer onboarding capability in a matter of minutes
Reducing customer onboarding time
Removing the need for banks' customers to visit a branch
Cost savings and operational efficiency through fully automated end-to-end processes
Enhanced regulatory compliance
Reduced KYC due diligence time
Higher customer satisfaction with improved turnaround times
Reduced cost-to-serve and failed client acquisitions
Increased customer lifetime value
Freeing up bank employees to focus on high-value activities

For Customers

Easy onboarding anytime, virtually anywhere without the need of visiting branch
Faster and more flexible access to banking services
Switching seamlessly between channels of choice
The ability to perform an e-signature using the smartphone

For customers preferring a more traditional way of banking, physical branches can, of course, remain the primary point of contact for customer enrollment. With our Digital Onboarding Solution, a bank customer can also complete an application or account opening at a branch after beginning the process online. They can also make an appointment with a direct sales agent from the bank to come visit them and submit their documents at their doorstep. Read more here. 
E-Book
Seamless Digital Onboarding in 5 Steps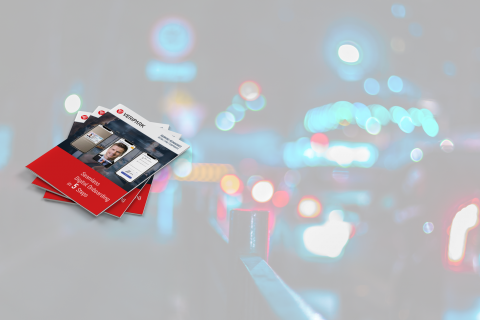 E-book: 5 Steps to a Seamless Digital Onboarding
Download our e-book "5 Steps to a Seamless Digital Onboarding" here. Find out more about VeriPark's Omni-Channel Digital Onboarding Solution that provides a single platform for banks to onboard customers easily and securely using their preferred onboarding channel(s) in a seamless journey.