Chatbot
At a time when personalized, omni-channel customer experiences are becoming the new norm, we recognize the importance of engaging customers in new ways.
VeriPark designed a chatbot module for customer-centric banks & insurers looking to unite all platforms around their customers and shift their communications. With the chatbot, banks & insurers can offer services that go beyond normal business hours, boost sales and increase loyalty.
The chatbot module runs across all digital channels from web to mobile and delivers a holistic communication. In other words, customers can choose the channel that suits them and get the same omni-channel experience everywhere. With the instant chat feature, they can access quick services and get transactional support 24/7. The conversational functionalities of the chatbot enable customers to resolve an issue or get an answer to a question faster than a live person.  What is more, the transactional capabilities allow them to perform transactions such as payments, transfers and loan applications instantly.
Key Features
Using Natural Language Processing (NLP) for intent and entity recognition to provide a way for systems to understand customers in their own language from any device

Interacting with customers to make sure that they get answers to their questions or find what they're looking for in real-time

Using Machine Learning (ML) to better understand customer requests and provide a natural, near-human communication by streamlining and optimizing customer service operations

Integration capability with Microsoft Bot Framework and LUIS

Integration capability with social channels such as Facebook and LinkedIn

Connecting channels to any back end system to carry out the tasks

Straight-through processing (STP) capability for routine activities  

Offering a mix of both live conversation and speed 

Multi-device and multi-platform compatibility: IOS, Android, Windows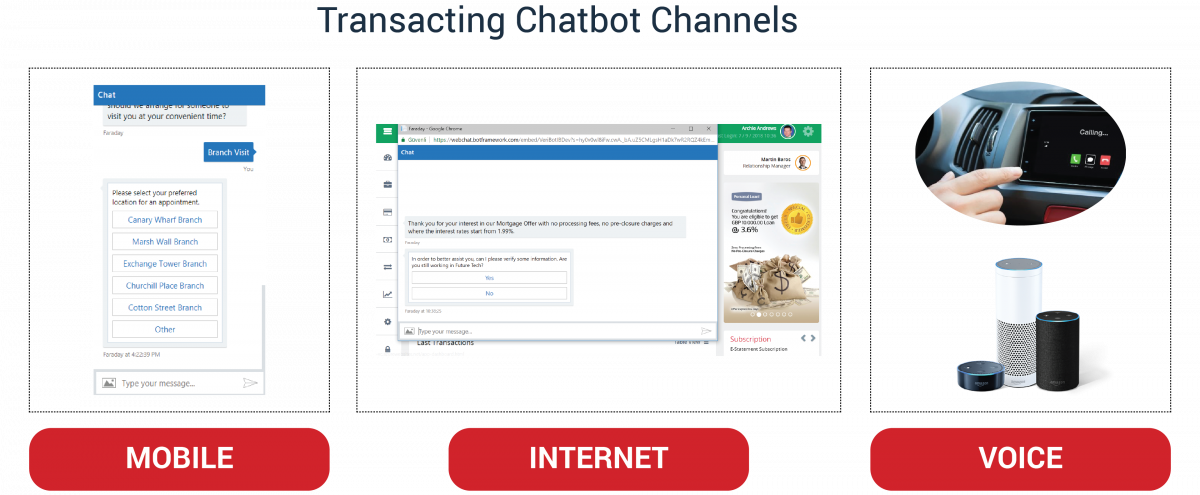 Key Benefits
For Financial Institutions

Facilitating two-way, human-like communications and directing customers to perform many banking transactions using chatbot
Offering 24/7 customer support, giving guidance and advice on financial decisions
Driving dramatic cost savings by automating transactional enquiries
Redirecting workforce to focus on more complex customer issues that require deeper human insight
Becoming more interactive with the customers, re-establishing relationship banking, enhancing customer engagement
Getting a deeper understanding of customers' behavior and transactions and using this data to deliver highly-targeted personalized offers
Making omnichannel banking cost-effective and consistent
Gaining actionable insights and using them for cross-sale and up-sale opportunities.


For Customers

Reaching instant and personalized services that are available 24/7 via their preferred digital channel
Easy and intuitive banking anytime, virtually anywhere
Managing accounts, ordering and cancelling services, making transactions, within seconds
Having smooth interactions
Getting extensive customer support and guidance on financial matters