WEBINAR: Digital First Is Not Customer First - with Gartner expert Jason Malo
December 2, 2020 13:00-14:45 (GMT), Online
In this webinar, Jason Malo, Digital Banking Strategy Executive at Gartner, will share his insights and discuss why consumers choose digital or personal engagement and which are the value drivers where customers clearly favor one channel over another.  He will explain how the goal for digital should be "customer-best," guiding the customer through a process by using the best possible engagement path. 
VeriPark will present how their solutions enable banks to align their digital strategy with their customer strategy.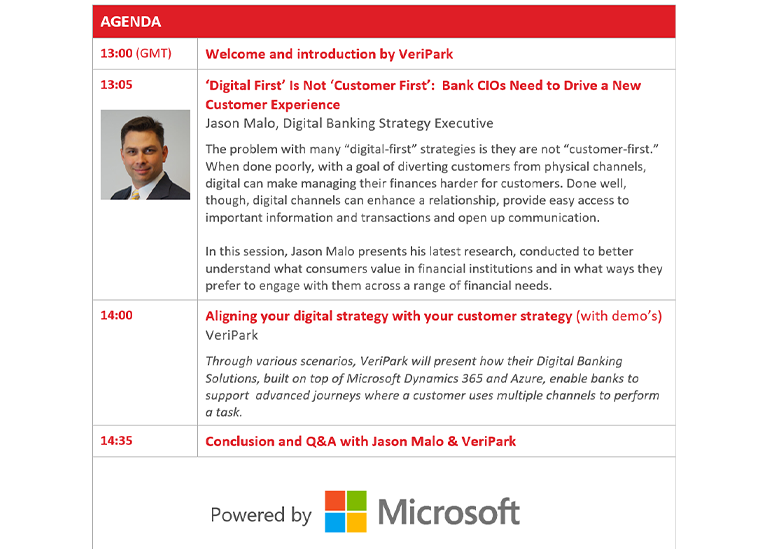 Jason Malo, Digital Banking Strategy Executive, Gartner
Jason Malo supports banking institutions through changes to their Internet-enabled banking portals (both mobile and online) and digital engagement. He also advises on the best strategic approach to better organize and understand data and how to use modern infrastructure capabilities like cloud services.
Mr. Malo spent 10 years with Bank of America in both technology and business roles leading projects balancing customer experience and security of the online banking platform. He started with BofA as a Developer of online platforms and databases, including data governance and platform transition activities for internal teams in corporate investment and retail banking. Following that, he managed the development, roadmaps, and go-to-market strategies for cloud-based products addressing threats to network infrastructure, personal information and online commerce over a five-year tenure with Verisign.