Lifestyle Banking: redefining banking in the age of super-apps
How super-apps and lifestyle banking can help banks remain relevant in a hyper-connected world
Thought leaders used to say 'the future of banking is digital' – we are now living in that future. They used to say 'the future of the internet is mobile' – we are there already too. The new and ongoing challenge for banks is how to retain their brand relevance with customers in a hyper-connected world, when so many financial services, such as payments, increasingly come embedded in other services.
Why should banks offer lifestyle services, not just pure banking and financial services?
In VeriPark's view, banks should respond by developing a lifestyle banking strategy, with the aim of becoming their customers' Primary Financial Institution (PFI) and so winning a greater share of their wallet. That includes using the latest financial technology to develop a branded Super App that can handle a full range of interlinked services. Our work with industry clients has already shown us how this strategy of keeping your brand front of mind can improve customer acquisition, retention and profitability. 
We know that millennials are already using just a few super-apps for many interactions in their digital lives. Where the digital natives lead, the rest of us tend to follow. So, what is lifestyle banking, what are super-apps, and how can VeriPark's omni-channel banking software help your financial organization develop and deploy a winning strategy to become a PFI? 
What is lifestyle banking?
Lifestyle banking is a way for financial services providers to re-position themselves as one-stop-shop lifestyle brands. The aim is to provide greater levels of personalization so as to increase customer engagement, loyalty and retention. It requires the ability to offer an attractive range of non-financial products and services that respond to the customer's changing lifestyle needs, supported by core banking services. 
Lifestyle banking focuses on meeting the specific lifestyle needs of target customer groups. It helps them use financial services seamlessly to make their lifestyle choices more convenient, so saving time and money. This makes it easier for customers to set and achieve their business and life goals (whether that's paying off their mortgage, going to the gym more often, or learning a language for their next vacation).
Lifestyle banking already exists in many forms, notably with neo-banks and mobile payment wallets offering digital alternatives to traditional banking. These enable customers to access lifestyle services, such as travel, entertainment, and shopping, using just their mobile banking apps. At the same time, they can use these super-apps to manage standard financial services such as payments, loans and investments.
What are super-apps?
As Gartner put it in a recent report: a super-app "is like a Swiss army knife — with a range of component tools (mini-apps) that the user can use and remove as needed". These mini-apps offer specific services that you might expect from individual apps: such as travel planning, including tickets and insurance, household management services (such as cleaning and food delivery), and leisure and entertainment bookings. They can also offer various reward schemes, such as cashback offers, discounts on top brands and save-as-you-shop schemes that effortlessly 'sweep your change' into a convenient savings account. 
---
Gartner expects more than 50% of people will use super-apps every day by 2027. 
---
The beauty of super-apps for customers is that they enable seamless switching between all their mini-app services without leaving the super-app. Customers are now demanding similar levels of additional functionality from their traditional digital and mobile banking providers. However, a super-app is not just about delivering more functionality but about fully embedding the app's services into customers' daily experiences, across multiple touch points. 
How can VeriPark's omni-channel software help?
VeriPark has the fintech experience to help banks build super-app platforms that deliver such mini-app ecosystems. We also understand the need to provide a seamless, user-friendly experience that builds your brand as a reliable lifestyle partner – for all occasions. Our approach enables financial organizations to offer customers consistent and personalized experiences across all their apps within one super-app.
Naturally, we ensure these lifestyle super-apps come with a full suite of digital financial transaction services, optimized for internet and mobile banking. We can also link these to your CRM systems so you have a holistic view of your customers' changing needs. The following diagram shows the range of services and the type of features we can provide.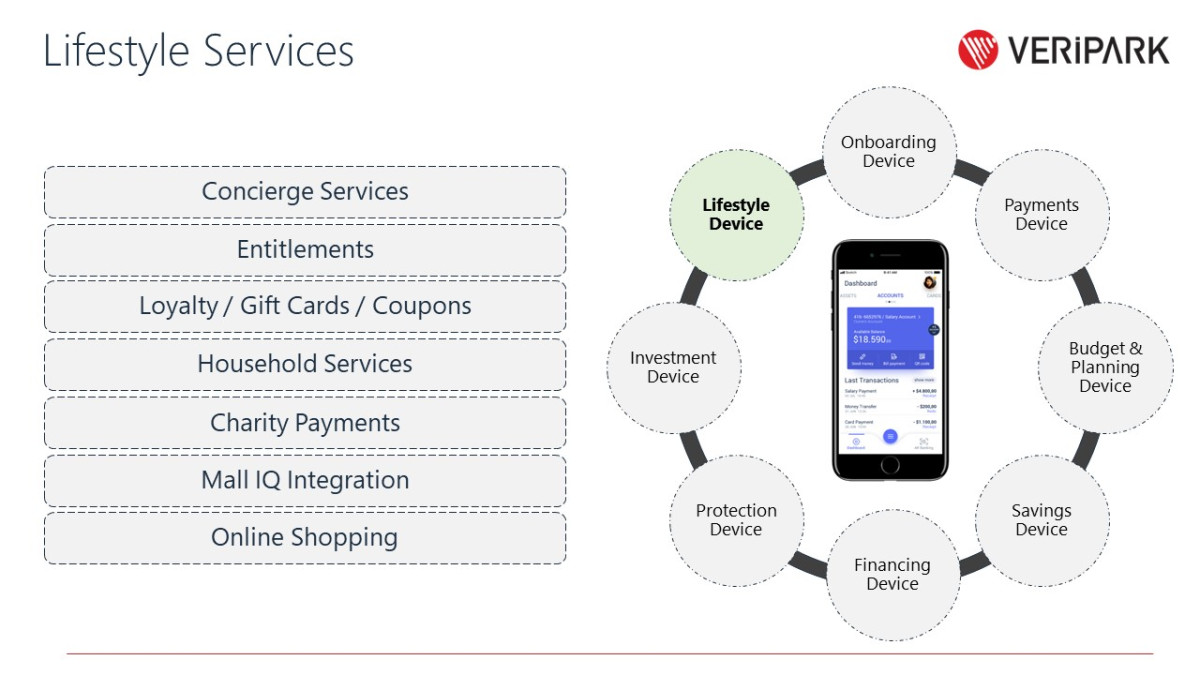 We are always happy to explore new ideas with our corporate customers and help them create a lifestyle banking platform that offers a total end-to-end service. Our aim is to ensure you are able to be the Primary Financial Institution (PFI) for your customers, now and in the future. To discover how we can help your bank with its lifestyle banking and super-app strategy, please contact us to request demos or discuss our services.