Retail banking
Customer Engagement (CRM)
JS Bank drives customer engagement excellence with Dynamics 365 and VeriTouch
In order to shape the next stage of its development -becoming a deeply engaged and trusted advisor to every client- JS Bank needed greater insight into customer activities, pain points, and key metrics. To help it achieve its mission, JS Bank turned to VeriPark.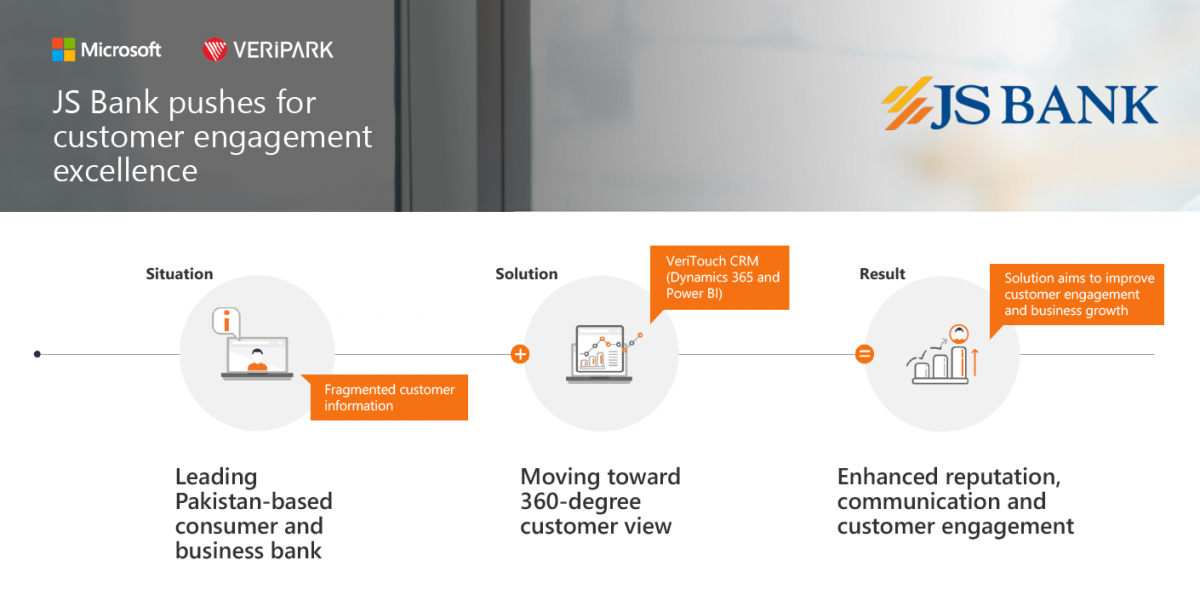 Founded in 2007 and operating more than 300 branches in 172 cities, JS Bank is one of Pakistan's fastest growing and most respected financial institutions. As the country's leading distributor of mutual funds and the second-largest partner to the Prime Minister's Youth Business Loans program, JS Bank is now consolidating its credentials with an even stronger focus on building meaningful customer connections—becoming a deeply engaged and trusted advisor to every client. Helping bring about that change is VeriPark, a member of the Microsoft Partner Network.
Better connection, deeper engagement
"For us, digital transformation is very important," begins Imran Soomro, CIO of JS Bank. "As one of the most highly thriving banks in the country, we plan to extend that journey, to feature among the top-ten banks. Digital transformation is just a part of that process."
Recognizing that JS Bank lacked an effective end-to-end CRM system, Soomro started searching for solutions. "While we did have a complaint and case management system for phone banking—we also leveraged some of that data for outbound sales—we didn't have an end-to-end CRM solution giving us a 360-view of the customer."
JS Bank needed a solution that would bring together all customer data. "Things are changing," echoes Farooq Asghar, Country Manager of VeriPark in Pakistan. "More and more banks are realizing the importance of having an effective enterprise CRM. Without one sales, service, branches, and every other customer touch point end up working in silos. You can imagine the effects of this kind of disconnect on the quality of communication and collaboration. It becomes frustrating for the customer whose customer journey is more complex and lengthened, and it can even stop a bank from being able to onboard new customers as it impacts brand image."
To improve its service offering, JS Bank needed a platform where everyone—from call center staff to relationship managers—would all see the same data about customer wants, needs, pain points, current products, feedback, branch visits, and more. 
This is of course where Microsoft Dynamics 365 comes into the picture," says Asghar. "It has a number of major success stories across the globe and VeriPark's internet protocol is built on top of it. Better yet, Dynamics 365 comes with pre-developed solutions to common problems faced by financial services companies.
We want to know our customers and we want to bring them the 'wow-factor'.