How AlternatifBank has accelerated its digital transformation to meet the challenges of social distancing
FSI Game Changers
As part of our 'FSI Game Changers' series, we have interviewed Esra Beyzadeoglu to find out how Alternatif Bank has been able to adapt quickly to the COVID-19 crisis.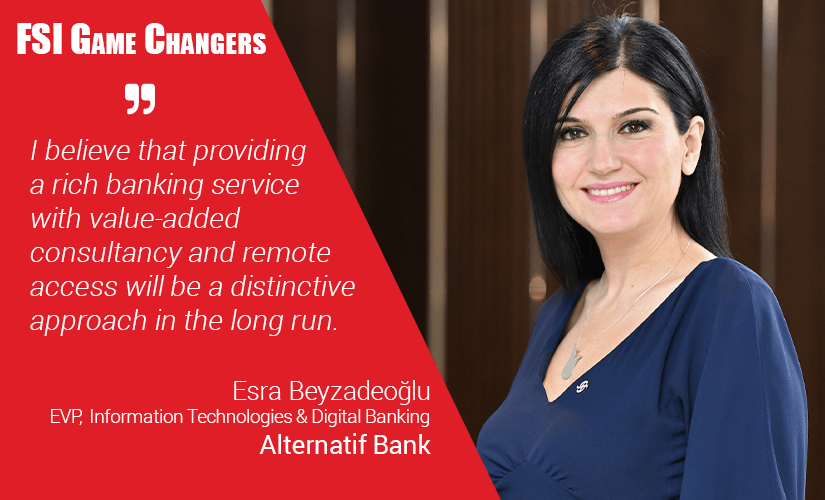 Q: How has COVID-19 affected Alternatif Bank so far?
Everyone in banking has been talking about disruptive digital transformation for years. But this pandemic has mobilized us to bring about major changes in a matter of a few short weeks. So far, for Alternatif Bank, our focus has been on protecting the health of our employees and customers while continuing to provide uninterrupted banking services.
We had already been innovating and investing in our digital channels and infrastructure before the pandemic. That meant we were able to maintain reliable banking services, even during curfews when our branches were physically closed.  
Q: How did you manage the switch to remote working?
It took a great deal of planning and preparation. We had our first COVID-19 business continuity meeting in February, and immediately started taking all the recommended hygiene measures. We also started getting our remote working model ready.  
Our priority was to ensure all our branch and head office employees had secure remote connections. We postponed all face-to-face training, events and business trips and started holding meetings online. Our CEO has since held regular digital meetings to help bring all our teams together.
The effort has been worth it because there is nothing more important than keeping our people safe. Within a few days of the first notified Covid-19 case in Turkey, over half of our headquarters team was working from home. We increased this rate to 95% for head office and 50% for the branches at the beginning of April.
Currently, we have 98% of head office teams and 60% of our branch teams working at home. That means we only need to have four people physically present in our head office. Even our Treasury and Customer Communication Center people have been working from home.
This has been a huge and important change but we did it in just 2-3 weeks. Looking back, I am very proud of all our employees for making it such a great success. We are now all working to prepare for a safe and gradual return.
Q: How did you continue serving your customers during this crisis?
We have served our retail and corporate customers throughout this time with online and mobile banking, as well as our Customer Communication Center. Our branches remained open, but with reduced hours. We've also been talking to and helping our customers deal with the financial implications of this crisis.
For example, we have increased the daily ATM withdrawal limit and made online and mobile EFT and wire transfer transactions free of charge until the end of June. Retail and corporate customers have had the opportunity to postpone credit, interest and installment payments. We are also participating in the Check Payment Support Loan and Economic Stability Shield Loan Support packages commissioned by the Treasury and the Credit Guarantee Fund.
While this era has shown the importance of investing in digital channels, I believe it has also taught all of us lessons that go beyond digitalization.
Q: Do you think COVID-19 will change customer behavior in the long term?
With social distancing people have been accessing so much more from home. Everything from shopping and cultural events to business meetings and talking to loved ones. We've also seen a lot of new digital banking customers and I think this will continue.
We're investing in making our digital experience even more user-friendly to ensure customers feel supported. We're also sharing written and visual informational content so they can bank safely and confidently from home. I think brands that offered personalized customer support even before the pandemic were already one step ahead; for example, we were one of the first banks to offer digital customer meetings.
Customer experience is one of the most dynamic and vibrant topics in banking and it is now even more important to make customers feel valued and cared for. We're continuing to work closely with all our banking channels, and our consultant bankers, to achieve this. I believe that providing a rich banking service with value-added consultancy and remote access will be a distinctive approach in the long run.
Things won't be the same as before. We are seeing more customers preferring our digital services, such as e-signatures for applications. Also, contactless payments will be more important. Virtual cards, and the ability to manage them through digital channels, are now one of our most valued customer services.
Q: How have you been helping your older customers or those who were used to visiting branches?  
We have connected our customers aged 65 and over, and other high risk groups, directly to a customer representative at our Customer Communication Center through their registered numbers in the bank system. We've also prepared short videos to show them how to transfer money and how to get passwords for digital and mobile banking channels.
Q: Do you offer digital onboarding to your customers?
We launched end-to-end digital customer acquisition in 2018. The only part of the process that is not digital is that we require a wet signature which we collect by courier. Once the customer has a deposit account with us, they benefit from a huge range of our services regardless of their channel preference. One of our big differentiators is that our digital customers have their own portfolio manager, just like customers who come to us through the branch channel.
Q: How are you supporting your corporate customers during this time?
We are keeping in close contact and responding quickly to their requests for finance, credit and restructuring. We are also ensuring our exporters can access information on the topics they need, such as letters of credit, loans, letters of guarantee and taxes, without going to a branch. They can simply call our Foreign Trade Consultants at our Customer Communication Center;  in fact this expertise is available to support all international trading companies, whether they bank with us or not.
Q: How do you see the future of branch banking post-COVID-19?
I think branches will continue to play an important role. At Alternatif Bank, we have been optimizing our branch network for the last two years, making location changes to ensure we provide efficient services without reducing the overall number of our branches.
For example, one of our most important digital transformation projects has been Onboarding and Multiple Sales. This has reduced the time taken for many customer acquisition and product sales processes from 3-4 days to just 8-9 minutes. We redesigned our branch structure to ensure they can play a full role in this. Many banks have been trying to make similar changes in recent years and I think COVID-19 will accelerate this trend to more digital branches.
Q: How did VeriPark help you to accelerate your digital transformation journey?
VeriPark has been a valued strategic business partner both before and during this pandemic. We have loved working on many successful projects together. For example, we have built an award-winning infrastructure for all of our digital channels with VeriPark's framework.
We have also renewed our retail and corporate internet banking and mobile banking channels with the latest technology, and we achieved that together in just one year. We built our CRM program from the ground up; we are currently running a pilot system, which we will analyze and develop further. We are also about to start our Robotic Process Automation (RPA) journey with VeriPark.
Thank you, Esra!
If you would like to know how VeriPark helped Alternatif Bank to create one single framework to drive consistent journeys through digital and assisted channels, you may find following case study interesting: